Rhino Roofers is a professional San Antonio Roofer, known for being a roofing expert. Our team specializes in providing high-quality residential roof replacement, roof repairs, and commercial roofing services to homes and businesses throughout San Antonio TX, and the surrounding cities. With years of experience in the industry, our team of expert roofing contractors has the knowledge and skills to handle any roofing project, residential or commercial.
Why San Antonio Roofs Need Special Attention: A Guide to Maintaining Your Roof
Being a San Antonio roofer, we are familiar with the warm, humid weather San Antonio offers. Even while the weather may be ideal for people, it may be difficult on roofs, so it's important to take extra precautions to maintain your roof's health. We'll discuss the unique challenges San Antonio's climate may present for roofing and provide readers with practical advice for maintaining their roofs in good condition. We'll also provide you with a brief introduction to Rhino Roofers, a reputable roofer in San Antonio, Texas, who can help you with all of your roofing concerns.
Regular Roof Maintenance
Two of the main issues that roof face in San Antonio, Texas, are the extreme heat and humidity. Frequent exposure to the sun's ultraviolet rays can cause the roofing material to degrade and crack over time. In addition, humidity can encourage the development of mold and mildew, which can weaken the roof's structure and cause water damage. If you wish to prevent these issues, regular roof maintenance is essential.
4 Things You Can do to Maintain Your Roof
Clear the roof and gutters of any debris, such as leaves and branches.
To avoid trees from falling on your roof during a storm, trim back any overhanging trees.
After any significant weather event, such as a hailstorm or a period of severe rain, check your roof for damage.
To stop additional damage, keep an eye out for any indicators of damage, such as cracked or missing shingles, and take immediate action to fix them.
Preparing for Tornado & Hail Season
San Antonio may experience tornadoes and hail, which could significantly harm roofs. It's crucial to have your roof evaluated by a licensed San Antonio roofer before the start of tornado season. They may inspect your roof for any weak points and make the necessary repairs to strengthen it so that it can withstand severe winds, heavy rain, and hail.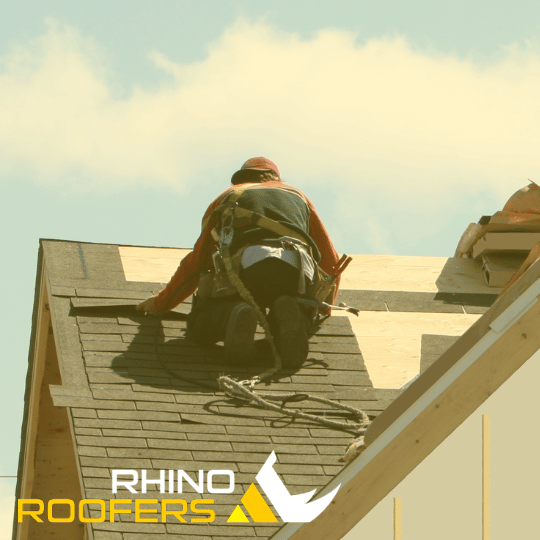 Introducing Rhino Roofers
All of your roofing needs can be met by San Antonio Roofer , a reputable roofer in San Antonio, Texas. Among the many services they provide are roof installations, repairs, and inspections. Any problems with your roof can be found by their team of knowledgeable experts, who can also provide you a thorough report on the required repairs.
Roofing Services Rhino Roofers Offers
Roof assessments to find any problems with your roof
Repairs for your roof's imperfections, such as cracked or missing shingles
Installations of a range of roofing materials, such as metal roofing, flat roofs, and asphalt shingles
Why Choose Rhino Roofers?
Working with a skilled San Antonio roofer is crucial when it comes to maintaining your roof. Rhino Roofers can give you the knowledge you need to maintain your roof in top shape because they have years of experience in the field. They can also provide you pointers and suggestions on how to safeguard your roof against harm, like pruning back trees and clearing waste.
Rhino Roofers is a dependable and skilled roofing company in San Antonio, TX, providing a variety of roofing services such as installs, repairs, and inspections. They place a premium on quality, safety, and client satisfaction, and they are committed to offering expert guidance and solutions to common roofing issues.
The experience and time spent working in the roofing industry
Rhino Roofers is a group of specialists capable of recognizing and resolving any roof-related concerns
Offering a range of services, such as roof installations, repairs, and inspections.
Complimentary Roof Inspections offered to San Antonio residents
Rhino Roofers team can give pointers and guidance on how to care for your roof and shield it from harm.
Insurance Claim pointers
As roofing specialists, Rhino Roofers is familiar with all roofing materials including asphalt, metal, and tile roofing
Keep Your Roof in Top Shape with Rhino Roofers, the San Antonio Roofer
A reputable San Antonio Roofer, offers a wide range of services to help homeowners maintain their roofs in top shape. Their team of experienced professionals can identify and resolve any roof-related problems and provide useful tips on how to care for your roof.
By taking care of your roof, you can avoid costly repairs and ensure the safety of your home and family. Homeowners should inspect their roofs on a regular basis for indicators of damage such as cracked or missing shingles, leaks, or mold growth. They should also clean their gutters and downspouts on a regular basis to ensure that water runs down the roof and does not cause harm. With Rhino Roofers, you can have peace of mind knowing that your roof is in good hands. Contact them today to schedule a roof assessment or learn more about their services. Remember, maintaining your roof is crucial, especially in San Antonio's unique climate.

4949 N Loop 1604 W #250, San Antonio, TX 78249
+1 (210) 942-8611