STANDING SEAM METAL ROOFS IN AUSTIN, TX
Standing Seam Metal Roof Specialists Serving Austin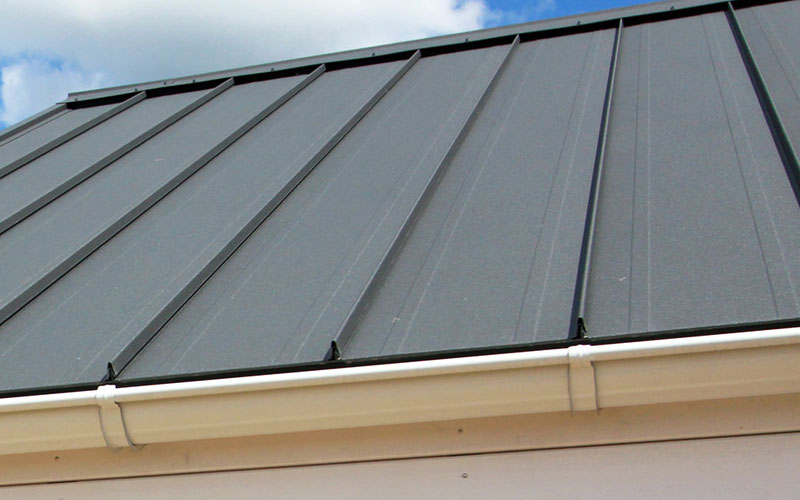 Standing seam metal roofing is made of interlocking panels. It is the strongest and most reliable roofing system available today thanks to its interlocking panels. It's completely waterproof and available in many colors to allow you to customize it as you wish.
Like other metal roofing services Rhino Roofers offers, standing seam helps regulate the temperature in your home because it reflects the sun and can save you money on your heating and cooling bills. You may also enjoy better insurance rates because of the reliability of your new roof.
Rhino Roofers offers metal roofing systems from copper, corrugated, steel, and aluminum to corrugated metal roofs.
What is Standing Seam Metal Roofing?
Standing seam metal roofing sounds exactly like it does. The seams are higher than the roof because they are interlocking. This is a unique aesthetic feature that makes standing seam metal roofing more appealing than other types of metal roofs.
This type of roofing can be customized in a variety of ways, including design-like customizations that could affect the strength of the seams.
Types of Standing Seam Metal Roofing
There are many types of standing seam metal roofing. Each seam type interlocks slightly differently and provides different protection. You can select specific seam types depending on your environment.
Snap-lock roofing systems are made with special edges that snap together with a male and female leg. Because they snap together with a click in place, standing seam metal roof contractors don't have to do any manual work. This saves labor and results in lower costs. Snap-lock roofing is suitable for any climate as long as it's installed according to the manufacturer's specifications.
Mechanical lock roofing systems also have edges that line up together. Once lined up, they require the use of a mechanical seamer to bend and secure them in place. They come in single lock and double lock profiles for better performance and insulation in colder weather.
The edges of batten panel roofing systems are welded together by a metal cap. Some caps are more secure than others, depending on what type they are. The roofing system's ability to withstand inclement weather conditions will improve the more secure it is.
Advantages of Standing Seam Metal Roofing
Standing seam metal roofs are constructed with interlocking panels that prevent fasteners from being exposed to the elements, which can lead to them deteriorating over time. Metal roofing systems can be durable but fasteners may need to be replaced. Standing seam roofs don't have to be replaced because there are no exposed fasteners.
Standing seam metal roofs are also different than other roofing systems. The panels don't need to be pinned down so that they can expand or contract with the weather. This allows for greater flexibility and less chance of them breaking.
Standing seam metal roofing, like all metal roofing systems is durable, customizable, and long-lasting. It's also eco-friendly and efficient. We love all these things about metal roofing.
Standing Seam Metal Roof Maintenance
Metal roofing systems also require fasteners. This means that they are not easy to maintain. However, you will need to replace any damaged or loose fasteners. Standing seam metal roofs don't require any fasteners to go through the metal so this maintenance is not necessary.
While maintaining a standing seam roof is an essential task, it requires less maintenance. You should only inspect for low-hanging branches, metal, or other debris, and then clean it up.
Standing Seam Metal Roof Cost
Standing seam metal roofing is expensive. Because of its prefabrication, it is one of the most costly types of metal roofing. Standing seam metal roof installation requires specialized rolling techniques. Few contractors are skilled in this process.
Installation is labor-intensive, which adds to the price. You'll get a professional standing seam metal roof company that will provide you with a warranty and a durable, long-lasting roof.
ContactRhino Roofers for more information about our standing seam steel roofing service. We will provide professional installation and advice. This is one of the most versatile metal roofing options.